Comparisons Of PU Products

Polyurethanes have definite advantages over plastics, conventional rubber and metals, which make them a better substitute in applications where these materials are normally used.
… vs. Rubber
high abrasion resistance
high cut, tear resistance
superior load bearing
thick section molding
colorability
oil resistance
ozone resistance
radiation resistance
broader hardness range
castable nature
low pressure tooling
… vs. Metal
lightweight
noise reduction
abrasion resistance
less expensive fabrication
corrosion resistance
resilience
impact resistance
flexibility
easily moldable
non-conductive
non-sparking
… vs. Plastic
high impact resistance
elastic memory
abrasion resistance
noise reduction
variable coefficient of friction
resilience
thick section molding
lower cost tooling
low temperature resistance
cold flow resistance
radiation resistance
Some specific properties of Polyurethanes when examined show it to be a more practical choice as compared to those of rubber, metal and plastic.
Abrasion Resistance:
The outstanding abrasion resistance of Cast polyurethanes has resulted in thousands of successful applications. In laboratory tests as well as in field applications, Cast Polyurethanes show a definite wear advantage over many other materials, The following figure illustrates a comparison of abrasion properties of Polyurethane with rubbers and plastics.
Right side figure illustrates a comparison of abrasion properties of solid polyurethane with rubbers and plastics. In field studies, polyurethanes have outworn rubbers and plastics, as well as steel and ceramics in some applications, by a factor of 8 to 1.
---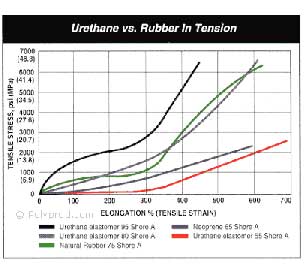 Stress /Strain Properties
Some plastics have high modulus and tensile strength but low elongation. Most rubbers , have high elongation but low modulus and tensile strength. Polyurethane elastomers have high modulus, high tensile strength and high elongation. This combination imparts toughness and durability to the part.
Left side figure compares the stress/strain properties of some polyurethanes with those of a few rubber materials.
---
Compression Properties:
Cast Polyurethanes have much higher load-bearing capacity than conventional elastomers of similar hardness.
Right side figure is a comparison of the compressive stresses required to cause a 10% deflection with samples of cast polyurethanes and Neoprene rubber. This high load bearing capacity , combined with the superior abrasion and toughness is an important advantage in applications like metal forming die-pads, die springs, Fork lift tires, caster wheels, industrial rolls, etc.
---
Hardness and Resilience:
Cast Polyurethane elastomers can be compounded in a wide range of hardness from 20A to 75D (soft as a rubber band or as hard as plastic) Special formulations of cast polyurethanes can be made with resilience values as low as 2% or 75%. This is ideal for applications such as springs and shock mounts.